The National Institute of Justice (NIJ) is in the process of updating the current Stab Resistant Body Armor Standard in an effort to revise it to enhance officer safety. Corrections officers are faced with significant danger on the job and this effort addresses threats and how a revised standard can mitigate them.
Click here to learn more about the proposed new standard, anticipated to be released in 2022
Fact Sheet on Understanding NIJ 0101.06 Armor Protection Levels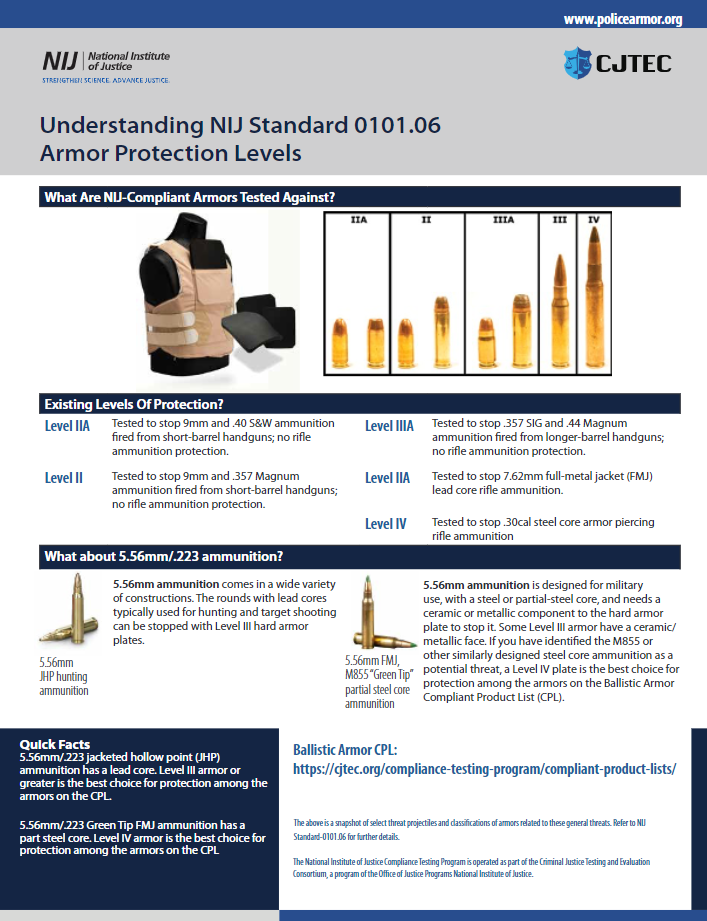 NIJ has issued a new fact sheet for law enforcement and corrections professionals who are looking for detailed information on the levels of protection provided by NIJ compliant ballistic body armor. The publication explains existing levels of protection and what compliant products are tested against.
Download Fact Sheet on Understanding NIJ 0101.06 Armor Protection Levels PDF (200 kb)
Behind the Badge: Management Guidelines for Impacts to Body Armor
This NIJ-sponsored publication presents procedures to follow when a law enforcement officer has suffered an injury underneath his or her body armor. The report features the work of an interdisciplinary review panel that examined the specifics of officers who have suffered "behind armor blunt trauma." Specific guidelines for officer care have been developed as a result.
Read more here: Behind the Badge: Management Guidelines for Impacts to Body Armor (PDF)
Features
Find new information regarding body armor and related technologies for law enforcement and corrections professionals here. Come back to this page often for news updates, videos and publications.
An SRO Talks About Female Body Armor
Officer Can't Even Imagine Not Wearing His Body Armor
SAVES
Wearing body armor can save your life. Find recent survival stories reported in the news media. Come back often for updates and additional information.
In the News
Study Evaluates the Effect of Body Armor
PoliceOne.com, March 11, 2019
Research on the effects of wearing body armor is available in the Journal of Occupational and Environmental Hygiene. The study evaluated the Law Enforcement Officers Killed and Assaulted (LEOKA) database to determine the effect of body armor on the survival of gunshot wounds to the torso. Read more here.
Officer Saved by Bulletproof Vest During Armed Home Invasion
WXIA (06/16/2017), Catherine Park
A Hall County, Ga., sheriff's deputy survived a shot to the torso during a response to a home invasion thanks to his ballistic-resistant vest. The call took place around midnight on June 15, and the officer was treated and released at a nearby hospital. All suspects in the case are in custody.
http://www.11alive.com/news/local/officer-saved-by-bulletproof-vest-during-armed-home-invasion/449663909
Cops Given Special Gear So They Don't OD During Drug Busts
The Daily Caller (06/15/2017), Steve Birr
The Charlotte-Mecklenburg (N.C.) Police Department recently began to train its officers in the use of special protective gear when responding to a drug scene, although the officers are advised, if possible, to wait for trained crime scene technicians to handle any potential drug-related substance. The department has responded to 62 drug overdose incidents so far in 2017, many of them related to fentanyl.
http://dailycaller.com/2017/06/15/cops-given-special-gear-so-they-dont-od-during-drug-busts/
Okla. EMS Agency Equipped With Body Armor
EMS1.com, (03/10/2017)
The Bryan County EMS in Oklahoma has added 30 ballistic-resistant vests to its protective gear for personnel. The agency's personnel will also undergo active shooter training with local law enforcement throughout the year.
Read the March 10, 2017 article on EMS1.com - Link to Article.
Missouri City Awarded Bulletproof Vest Grant
The police department in Missouri City, Texas, will be able to purchase body armor with grant funds from the Bureau of Justice Assistance Fiscal Year 2016 Bulletproof Vest Partnership program. The city has received this recurring grant for more than a decade, which reimburses the police department for 50 percent of the costs for replacement of body armor. Read the Nov. 3, 2016 story on Patch.com - Link to Article.
Featured Videos
Popular Publications