Stab Armor Information for Law Enforcement & Correctional Officers
---
Although the most common type of threat faced by a US police officer is a ballistic threat, the most common threat faced by correctional officers comes from sharp-edged and pointed weapons. In response to the needs of the corrections community, the National Institute of Justice (NIJ) developed a test standard for stab- and puncture-resistant body armor. NIJ, through the National Institute of Standards and Technology, partnered with the U.S. Secret Service and the United Kingdom (UK) Home Office Center for Applied Science (CAST) (formerly the Police Scientific Development Branch) in the United Kingdom (UK) to conduct the research that led to the development of NIJ Standard-0115.00, Stab Resistance of Personal Body Armor.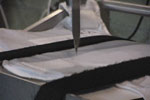 The Home Office has extensive experience in researching the issue of sharp instrument threats, as this is the primary threat faced by law enforcement officers in the UK. The Home Office's research effort focused on developing a model to be used in determining the actual forces generated during an attack by an assailant with a sharp-edged or pointed instrument. This information could then be used to develop realistic test methodologies and procedures. The Home Office's researchers reviewed medical data from more than 1,000 actual stabbing assaults that occurred in the UK. Then, to correlate this information, they developed an instrumented knife (dubbed the "stabometer") capable of measuring the amounts of acceleration and force generated by a stabbing impact. The stabometer was then used to record force and energy data generated by 500 fit young military cadets performing a number of different stabbing motions, both overhand and underhand. From this data, researchers developed a greater understanding of the mechanics of a stabbing incident. This in turn led to the development of a dual-mass drop system used in testing, which more accurately replicates the forces impacting a vest during a stabbing incident.
Additionally, several different types of test blades have been developed to accurately reflect actual threats faced by law enforcement and corrections officers. Although these blades are specially designed for testing purposes to ensure consistency in testing, they reflect many of the features found in commercial knives with new blades currently being developed to represent inmate/prisoner made instruments, which are commonly used in attacks against police and corrections officers.
Furthermore, researchers examined the backing material used to support the vest during testing to determine what would most accurately replicate the response of the human torso during a stabbing incident. Once again using data developed by the Home Office, a composite backing material consisting of alternating layers of closed-cell foam and neoprene rubber was developed for use in the testing.
Find More Stab Armor Info